BREAKTHROUGH IMMUNOTHERAPIES FOR CANCER AND COVID-19
Memgen's Mission:
Design and develop viral immunotherapies that can be used in combination with market-leading cancer drugs including KEYTRUDA and OPDIVO to cure cancer.
We plan to soon begin clinical trials at major cancer centers of our lead immunotherapy, MEM-288, in patients with advanced cancers including lung, breast, pancreatic, and prostate cancers. MEM-288 has been developed with and licensed from Moffitt Cancer Center.
We are currently testing MemVax, our COVID-19 vaccine adjuvant, with other vaccines and adjuvants. MemVax is based on our earlier cancer research and clinical trials.
Latest News
---
November 2020 - John Poulos has joined Memgen's Board of Directors. He previously led business development at AbbVie and Abbott and was instrumental in the negotiation and execution of many of the transactions that shaped AbbVie's business. With his extraordinary track record and his extensive network of C-level pharmaceutical relationships, John is ideally positioned to provide strong insight and strategic guidance to Memgen's business development and M&A efforts.

READ MORE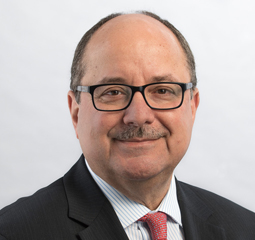 Management Team and Board of Directors
---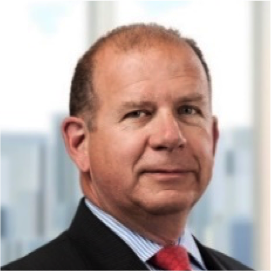 Gregory Brown, MD, MBA
Chief Executive Officer
Director
Extensive career bridging scientific and financial expertise in life sciences. Founder and Vice Chairman of HealthCare Royalty Partners ("HCR"). MBA from Harvard Business School, an MD from SUNY Upstate College of Medicine, and a BA from Yale University.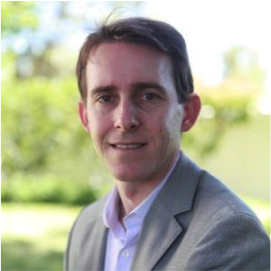 Mark Cantwell, PhD
Chief Scientific Officer
Director
Extensive research and industry experience in cancer immunotherapy drug discovery and development. Inventor on multiple patented technologies, including Memgen's viral cancer immunotherapies. PhD in Biomedical Sciences from the University of California San Diego.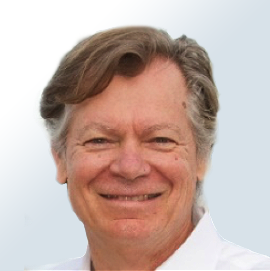 Robert Coates, PhD
Chief Financial Officer
Chairman of the Board
Dr. Coates is the founder and lead investor in Memgen. MBA and PhD in Finance, Accounting, and Economics from the University of Chicago Graduate School of Business.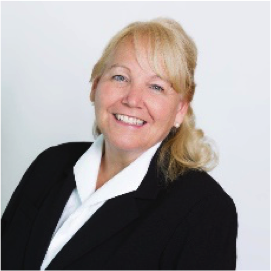 Chief Financial Officer of Tracon Pharmaceuticals 2014-18 where she oversaw Tracon's $41 million IPO and subsequent financings totaling over $100 million. Previous experience includes senior accounting positions at NuVasive and Orexigen Therapeutics and various CFO/accounting consulting roles.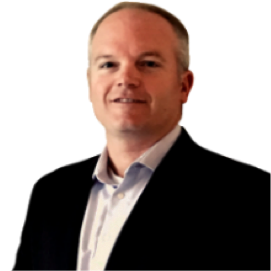 Vice President and Head of Corporate Development at Retrophin, a billion-dollar market cap biopharmaceutical company. Currently serves as a strategic advisor to Primmune, a preclinical-stage immune-oncology company and previously served as Chief Business Officer of Tracon Pharmaceuticals.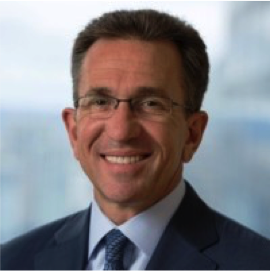 Christopher Pagano
Director
Former Chief Investment Officer, Chief Financial Officer, and Chief Risk Officer with Assurant, Inc. a NYSE-traded insurance company, over twenty-three years. MBA from the University of Chicago Graduate School of Business and a BS in Economics from the University of Pennsylvania Wharton School.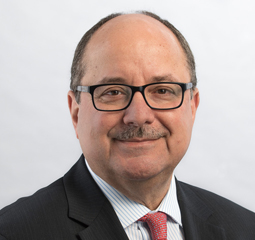 Deeply experienced pharmaceutical senior executive. Former Global Head of Corporate Development at Abbott and AbbVie, responsible for multiple major acquisitions, including Pharmacyclics ($21 billion) and Knoll/BASF ($6.9 billion)
Founding member of Wiltshire, Whitley, Richardson & English, PA, a full-service accounting firm offering a comprehensive range of business and personal accounting services. He is a member of the American Institute of Certified Public Accountants (AICPA) and the Florida Institute of Certified Public Accountants (FICPA).
Scientific Advisory Board
---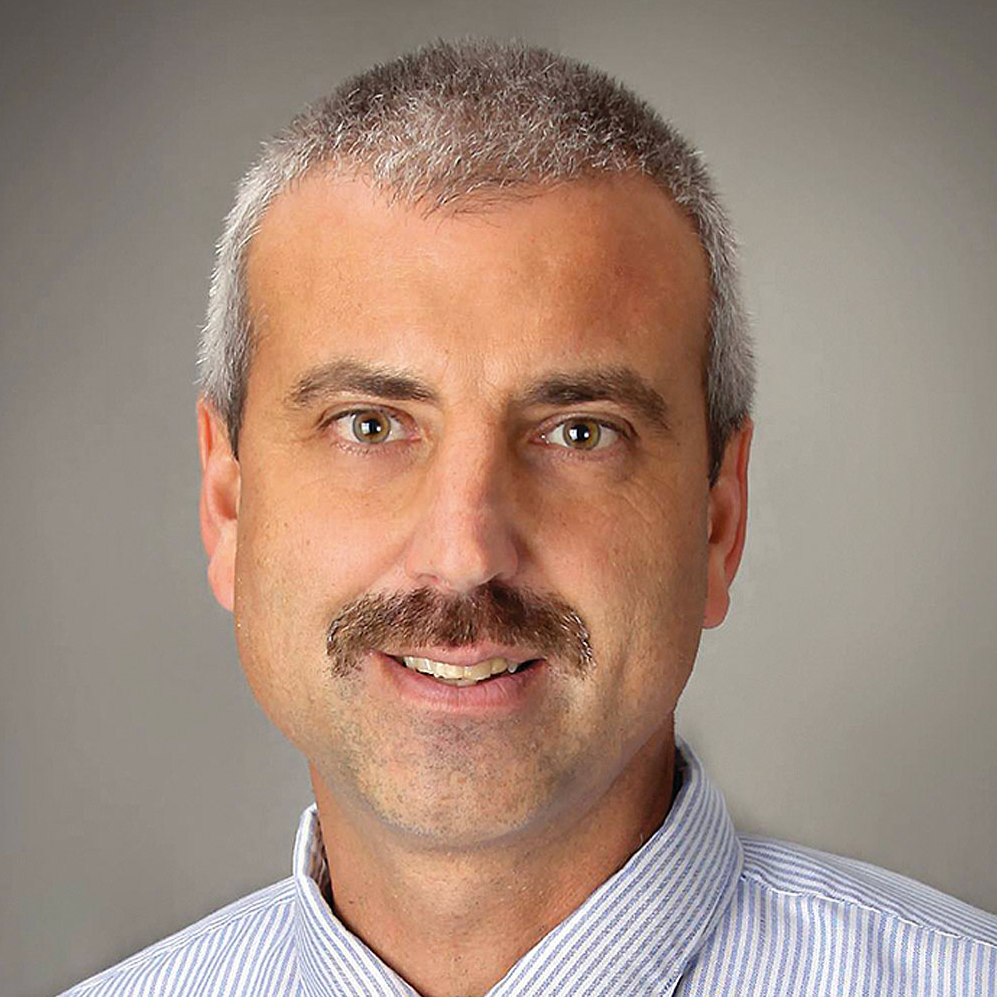 Scott Antonia, MD, PhD
Director, Duke Cancer Institute Center for Cancer Immunotherapy
One of the pioneers and leaders of the immunotherapy revolution in clinical oncology. Dr. Antonia has been a principal investigator on many of the most important clinical trials of checkpoint inhibitors in lung cancer. Dr. Antonia most recently was Chairman of the Department of Thoracic Oncology at Moffitt Cancer Center. He serves on the clinical development advisory boards of several major pharmaceutical companies.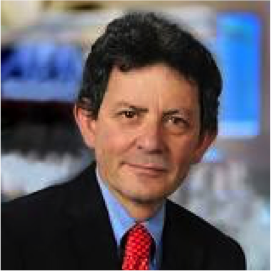 Malcolm Brenner, MD, PhD
Baylor College of Medicine and Director, Center for Cell and Gene Therapy
Recognized leader in the use of gene transfer to augment the immune response to human tumors using vaccines and adoptive transfer of genetically modified T cells. Dr. Brenner has coauthored more than three hundred publications that have been cited thousands of times. Dr. Brenner has previously served as President of both the International Society for Cell Therapy (ISCT) and American Society for Gene Therapy (ASGT).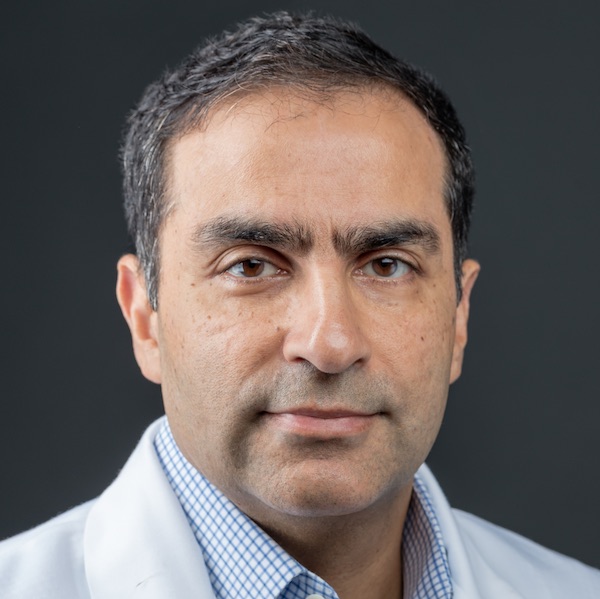 Amer Beg, PhD
Moffitt Cancer Center
Senior Member and Professor in the Departments of Immunology and Thoracic Oncology at the Moffitt Cancer Center. Dr. Beg has been at the forefront of immunology research with numerous publications to his credit. Dr. Beg leads the immunology group at Moffitt's Lung Cancer Center of Excellence and actively serves on NIH study sections and journal editorial boards.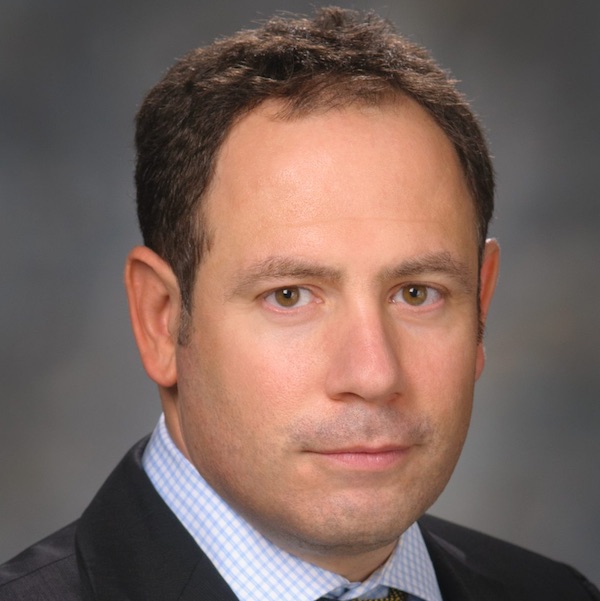 Adi Diab, MD
MD Anderson Cancer Center
Assistant Professor Department of Melanoma Medical Oncology. Dr. Diab is leading multiple clinical trials involving novel immune modulator agents and has co-authored over thirty scientific publications and abstracts. Reviewer for the Journal of Immunotherapy and the Journal of the American Society of Hematology. In addition, he is leading a program for Interventional Immunotherapy that was established to develop intratumoral therapies designed to improve clinical outcomes.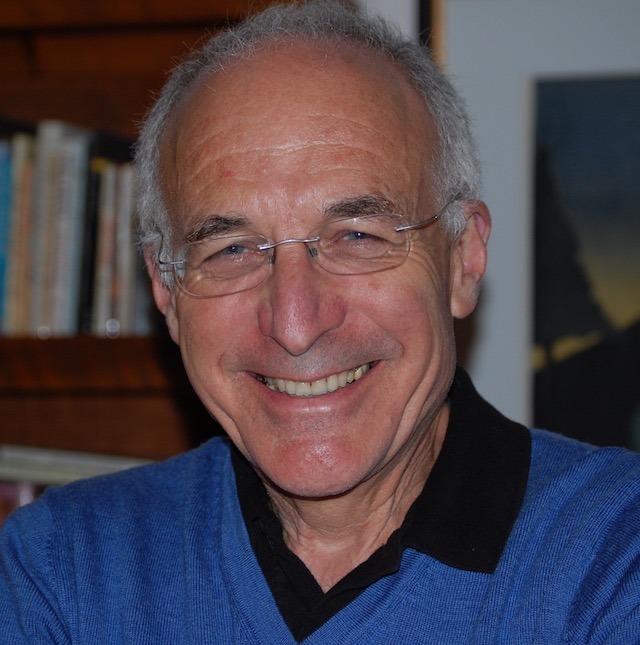 Thomas Monath, MD, FASTMH
Managing Partner and CSO
Crozet BioPharma
World-renowned virologist and vaccinologist. Dr. Monath has developed multiple innovative vaccines, including Ebola Zaire, dengue, and C. difficile, many of which are now licensed and commercialized. He was a partner at Kleiner Perkins and has been CSO and CMO of several biotechnology companies. He has served in leading roles at the CDC and USAMRIID. He is a past president of the American Society of Tropical Medicine and Hygiene, and an elected Fellow of the Society.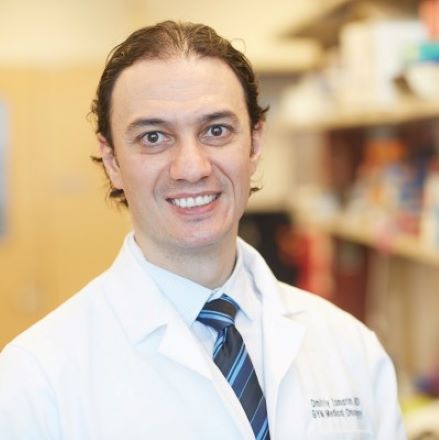 Dmitriy Zamarin, MD, PhD
Memorial Sloan Kettering Cancer Center
Medical Oncologist, Gynecologic Medical Oncology and Immunotherapeutics at Memorial Sloan Kettering Cancer Center (MSKCC) specializing in the treatment of gynecologic cancers. Dr. Zamarin has particular expertise in the use of genetically engineered oncolytic viruses to stimulate the immune system. Dr. Zamarin has received multiple awards and commendations both in the US and internationally, including the 2014 Bladder Cancer Awareness Network Young Investigator, the 2013 Conquer Cancer Foundation ASCO Young Investigator Award, and the Damon Runyon Foundation Fellowship Award.
Technology
---
Memgen's CD40 Ligand – The basis of our approach
The CD40-CD40L system is one of the body's most powerful immune regulatory systems

Activates the body's entire immune armamentarium: innate immune system, cellular and humoral immunity
Although many have tried, only Memgen has so far been able to translate the body's CD40 ligand into a patented, safe and effective biological

Memgen's proprietary CD40L transgene, MEM40, harnesses this powerful system

Already tested in humans – broad-based immune stimulation with acceptable safety and modest toxicity
Indispensable component of our armed viral immunotherapies including MEM-288
Broad-based immune stimulation could make MEM40 a valuable addition to COVID-19 vaccines
MEM40 is especially effective in activating T-cells directed against pathogens1. T-cells are a critical component in killing cancer cells and infectious diseases
The ability of MEM40 to activate the CD40 – CD40L system safely is at the core of our approach to treating cancer and preventing COVID-19
CD40-CD40L Mechanism of Action
---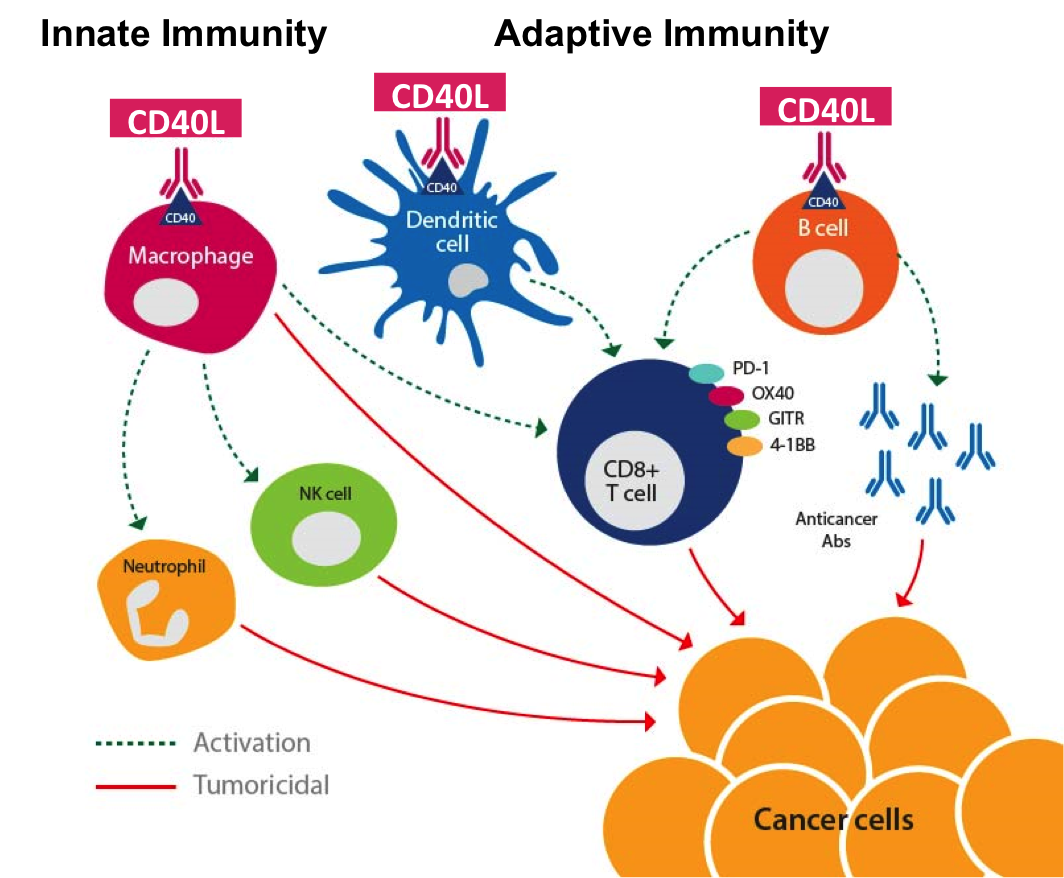 Memgen's Viral Immunotherapies
---
Memgen has developed, and has built a strong world-wide patent position, around our viral immunotherapies

Viral immunotherapies are a novel class of cancer therapy with tremendous unrealized potential

Viral immunotherapies have several major advantages

Our viral immunotherapies have been re-engineered to kill cancer cells selectively, while sparing healthy cells
Viral immunotherapies are a type of gene therapy. Our lead product candidate, MEM-288, is an oncolytic adenovirus "armed" with two powerful transgenes, including our proprietary CD40L transgene.
Arming the virus with these genes turns the patient's cells into tiny "drug factories" that "manufacture" proteins. Memgen's proteins activate the patient's immune system, especially the patient's own cancer killing T-cells.
MEM-288 is scheduled to enter clinical trials in 2021.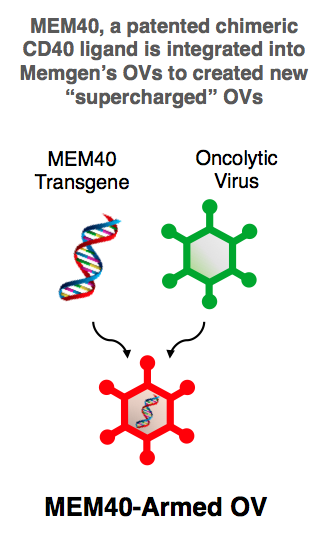 The combination of a highly active viral immunotherapy with two potent transgenes turns Memgen's MEM-288 into a "triple threat" attacking cancers with three discrete mechanisms
MemVax: Memgen's COVID-19 Vaccine
---
MemVax was developed to be an effective immunotherapeutic vaccine against both cancer and infectious diseases
MemVax is especially effective in activating T-cells directed against pathogens1. T-cells are a critical component to kill cancer cells and infectious diseases
Memgen's proprietary CD40 ligand technology, MEM40, is an integral component of MemVax.

The other major component is a non-replicating adenovirus.

The CD40-CD40 ligand system is one of the body's most potent immune system activators.

Activation elicits both antibody and cellular immune responses

Because of MEM40, MemVax can be used as a vaccine adjuvant capable of synergistic combination with coronavirus vaccines
Memgen's technology could address many challenges facing coronavirus vaccine development:

Effectiveness in older individuals and those with compromised immune systems
Long-term immune protection
Prior clinical proven experience with products ready-to-go into the clinic

MemVax plans to begin clinical testing of its COVID-19 vaccine in the second half of 2020
The Science of MemVax
---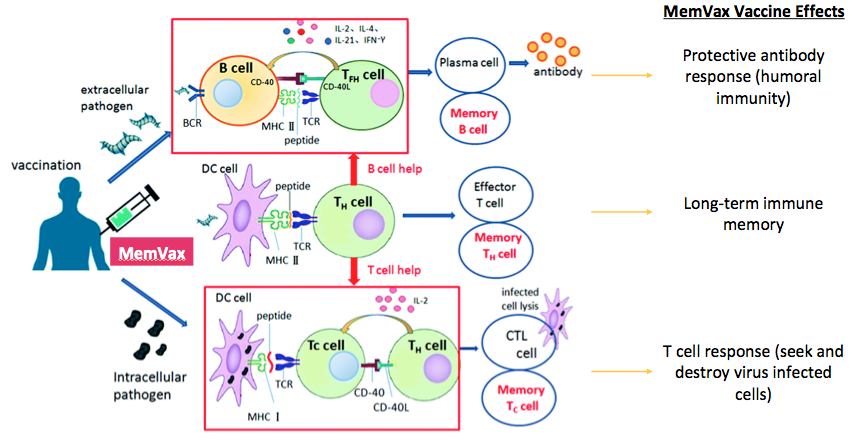 Pipeline
---
Memgen's Product Pipeline with Scientific Validation from World-Renowned Academic Institutions

MD Anderson Cancer Center conducted much of our early R&D with outstanding preclinical results showing our drugs dramatically improve responses to blockbuster checkpoint inhibitors
Baylor College of Medicine is manufacturing the cGMP drug supply of MEM-288
Both Moffitt Cancer Center and Duke Cancer Institute are prioritizing our first-in-human clinical trial of MEM-288
Contact Us
---
Memgen's Headquarters
12 Greenway Plaza
Suite 1100
Houston, TX 77046
For business opportunities, clinical questions, and regulatory matters please contact:
Gregory Brown, MD
(203) 940-3742
gbrown@memgenbio.com