Memgen's Goal: Substantially improve cancer patient survival by combining ISF35 with checkpoint inhibitors
---
Memgen's lead product, ISF35, is a first-in-class, T-cell cancer immunotherapy that promotes an anti-tumor immune response.
Learn More
About Memgen
---
Memgen's lead product, ISF35, is a first-in-class, T-cell cancer immunotherapy that promotes an anti-tumor immune response. This immuno-oncology (IO) drug can be combined with checkpoint inhibitors to potentially treat a broad range of cancer types, including but not limited to lung, metastatic melanoma, and hepatocellular carcinoma. Preclinical studies have shown that ISF35 in combination with checkpoint inhibitors can cure 40% of mice with an aggressive B16 melanoma tumor. This powerful systemic anti-tumor activity is seen in both the tumors injected directly with ISF35 and in distal non-injected tumors. Furthermore, the anti-tumor activity was shown to be mediated by ISF35 activation and expansion of tumor-specific CD8+ tumor infiltrating lymphocytes (TILs).
A phase I/II clinical trial of ISF35 and Keytruda (pembrolizumab) in refractory metastatic melanoma is planned. In addition, we are exploring expanded clinical development across a broad range of cancer types. Memgen is actively seeking a partner interested in developing and bringing ISF35 to market. ISF35 has worldwide patent protection and also qualifies for 12 years of US biologics marketing exclusivity and orphan drug designation in multiple indications.
Leadership
---
Robert Coates, Chief Executive Officer
Robert (Bob) Coates, Ph.D., co-founded and is the majority investor in Memgen. He majored in economics at the University of Virginia, graduating in three years with a B.A. with Distinction. He received his MBA and his Ph.D. in economics, finance, and accounting from the University of Chicago's Graduate School of Business, where he studied under several Nobel Prize winners, including Milton Friedman. Dr. Coates is also an angel investor and adviser to software and healthcare startups.
Mark Cantwell, Chief Scientific Officer
Mark Cantwell, Ph.D., is a co-inventor of Memgen's ISF35 technology. He has extensive research and industry experience in cancer immunotherapy drug discovery and development. Prior to Memgen, Dr. Cantwell was employed at ADVENTRX Pharmaceuticals (currently Mast Therapeutics), a specialty pharmaceutical company, where he held the title of Vice President Research & Development in charge of product development of its oncology and infectious disease programs. Dr. Cantwell has a Ph.D. in Biomedical Sciences from the University of California San Diego where he specialized in immunotherapy and gene therapy advancements.
Science
---
ISF35 is a T-cell cancer immunotherapy. This immuno-oncology product works by directly injecting tumors with a replication defective adenovirus that produces ISF35, a chimeric immunostimulatory protein (CIP) that activates tumor-specific T cells through immunostimulation of dendritic cells. ISF35 promotes an anti-tumor immune response and complements checkpoint inhibitors, a class of immuno-oncology (IO) drugs that removes the brakes tumors attempt to use to stop a T cell anti-tumor immune response.
The following preclinical results for ISF35 in combination with checkpoint inhibitors in a model of metastatic melanoma were presented at the 30th Annual Meeting of the Society of Immunotherapy of Cancer:
Induction of potent systemic anti-melanoma immunity through intratumoral CD40 activation and checkpoint blockade

Manisha Singh1, Zhimin Dai1, Hiep Khong1, Christina Vianden1, Mark Cantwell2, Willem Overwijk1
1University of Texas - MD Anderson Cancer Center, 2Memgen, LLC
Mechanism of Action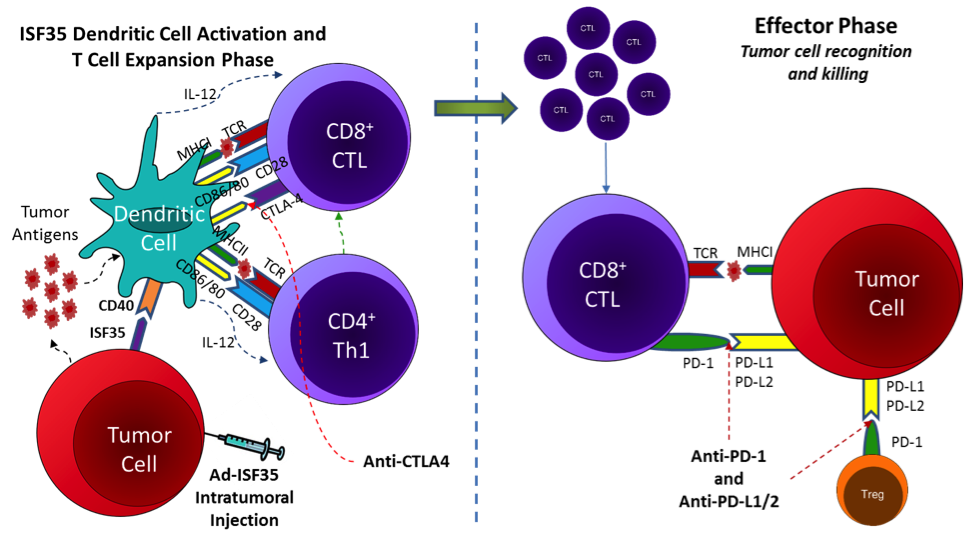 News
---
Data was presented at the Society of Immunotherapy of Cancer's (SITC) 30th Anniversary Annual Meeting in a poster presentation entitled Induction of Potent Systemic Anti-Melanoma Immunity through Intratumoral CD40 Activation and Checkpoint Blockade.
READ MORE
Contact Us
---
Memgen's Headquarters
12 Greenway Plaza
Suite 1100
Houston, TX 77046
To explore business opportunities with Memgen, please contact us at bizdev@memgenbio.com.
For clinical and regulatory matters, please email us at clinreg@memgenbio.com