Memgen's Goal: To substantially improve cancer patient survival with our viral cancer immunotherapies
---
Memgen's lead product, ISF35, is a first-in-class viral cancer immunotherapy encoding an optimized version of CD40 ligand.
Learn More
About Memgen
---
Memgen's ISF35 viral cancer immunotherapy is being combined with checkpoint inhibitors and other drug classes to potentially treat a broad range of cancer types including bladder cancer, metastatic melanoma, lymphoma, lung cancer, and hepatocellular carcinoma. Clinical trial protocols are ready for clinical collaboration with licensing options for the following ISF35 plus checkpoint inhibitor combination therapy trials:
Advanced/metastatic bladder cancer (Phase 1)
Metastatic melanoma refractory to checkpoint inhibitors (Phase 1/2)
Metastatic non-squamous non-small cell lung cancer with negative PD-L1 expression (Phase 1)
Hepatocellular carcinoma refractory to conventional therapies (Phase 1)
Preclinical research evaluating Memgen's viral cancer immunotherapy ISF35 in combination with PD-1, PD-L1, and CTLA-4 checkpoint inhibitors is guiding the clinical development of ISF35. Preclinical studies have shown that ISF35 in combination with checkpoint inhibitors cures 40% of mice with an aggressive B16 melanoma tumor, and eradicates melanoma brain metastases. These anti-tumor responses are generated through multiple immune pathways, including induction of tumor-specific CD8+ T cells, dendritic cell priming, and generation of immunostimulatory cytokines, chemokines, and immune effector molecules. These data add to the extensive clinical experience of ISF35 in chronic lymphocytic leukemia where safety and activity have been demonstrated.
ISF35 has worldwide patent protection, qualifies for twelve years of US biologics marketing exclusivity, and has received orphan drug designation for advanced melanoma.
Leadership
---
Robert Coates, Chief Executive Officer
Robert (Bob) Coates, Ph.D., co-founded and is the majority investor in Memgen. He majored in economics at the University of Virginia, graduating in three years with a B.A. with Distinction. He received his MBA and his Ph.D. in economics, finance, and accounting from the University of Chicago's Graduate School of Business, where he studied under several Nobel Prize winners, including Milton Friedman. Dr. Coates is also an angel investor and adviser to software and healthcare startups.
Mark Cantwell, Chief Scientific Officer
Mark Cantwell, Ph.D., is a co-inventor of Memgen's ISF35 technology. He has extensive research and industry experience in cancer immunotherapy drug discovery and development with a special focus on combination therapies. Prior to Memgen, Dr. Cantwell was employed at ADVENTRX Pharmaceuticals (currently Mast Therapeutics), a specialty pharmaceutical company, where he held the title of Vice President Research & Development in charge of product development of its oncology and infectious disease programs. Dr. Cantwell has a Ph.D. in Biomedical Sciences from the University of California San Diego where he specialized in immunotherapy and gene therapy advancements.
Science
---
ISF35 is a viral cancer immunotherapy encoding an optimized form of CD40 ligand. Direct intratumoral delivery of ISF35, a non-replicating adenovirus encoding CD40 ligand, activates tumor-specific T cells through immunostimulation of dendritic cells. ISF35 generates an effective anti-tumor immune response and complements checkpoint inhibitors, a class of immuno-oncology (IO) drugs that removes the brakes tumors attempt to use to stop a T cell anti-tumor immune response.
Mechanism of Action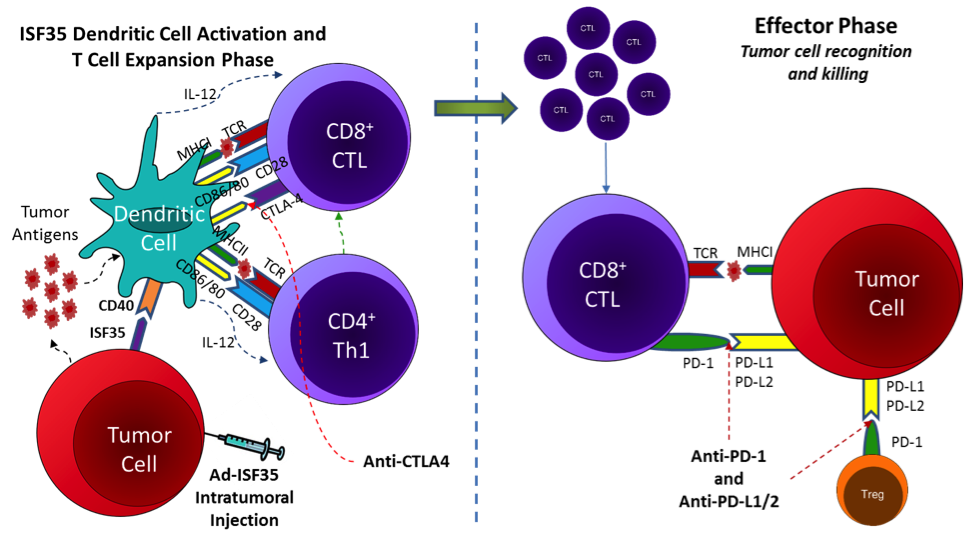 Preclinical results for ISF35 in combination with checkpoint inhibitors have been presented at multiple scientific conferences:
Second CRI-CIMT-EATI-AACR International Cancer Immunotherapy Conference, September 25-28, 2016
Intratumoral CD40 activation and checkpoint blockade induces systemic anti-melanoma immunity that eradicates disseminated tumors

Manisha Singh, Christina Vianden, Adi Diab, Patrick Hwu, and Willem W. Overwijk.
University of Texas MD Anderson Cancer Center, Houston, TX
2016 AACR Annual Meeting
Induction of systemic immunity through single-site intratumoral CD40 activation and checkpoint blockade eradicates melanoma in the brain

Manisha Singh, Christina Vianden, Adi Diab, Patrick Hwu, and Willem W. Overwijk.
University of Texas MD Anderson Cancer Center, Houston, TX
30th Annual Meeting of the Society of Immunotherapy of Cancer
Induction of potent systemic anti-melanoma immunity through intratumoral CD40 activation and checkpoint blockade

Manisha Singh1, Zhimin Dai1, Hiep Khong1, Christina Vianden1, Mark Cantwell2, Willem Overwijk1
1University of Texas MD Anderson Cancer Center
2Memgen, LLC, Houston, TX
News
---
ImmunoCellular Therapeutics, Ltd. and Memgen, LLC announce the signing of a non-binding letter of intent to exclusively negotiate the terms to possibly establish an immuno-oncology strategic collaboration focused on conducting clinical trials combining the companies' respective cancer immunotherapy product candidates.
READ MORE
Data was presented at the Society of Immunotherapy of Cancer's (SITC) 30th Anniversary Annual Meeting in a poster presentation entitled Induction of Potent Systemic Anti-Melanoma Immunity through Intratumoral CD40 Activation and Checkpoint Blockade.
READ MORE
Contact Us
---
Memgen's Headquarters
12 Greenway Plaza
Suite 1100
Houston, TX 77046
To explore business opportunities with Memgen, please contact us at bizdev@memgenbio.com.
For clinical and regulatory matters, please email us at clinreg@memgenbio.com